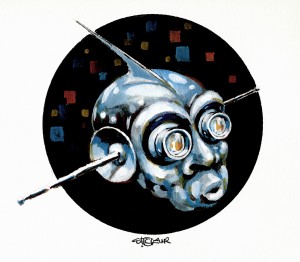 Mole control and milky spore
stop the worst lawn pests.
At least that's what the headline said,
gentlemen, place your bets.
It's new, it's improved; it can't be beat,
order yours today.
Just call the toll free number
and tell us how you'll pay.
It slices, it dices, it chops, it cuts;
it'll make a bad life good.
Our tests have shown this product's best
if your head is made of wood.
There is no risk, you've nothing to loose,
except of course your cash.
So be the first one on you're block
to chuck it in the trash.
But don't say yes, not just yet,
'cause look what we'll throw in.
A twenty dollar value,
and you'll earn a chance to win.
Your satisfaction's guaranteed,
try it and you'll see.
And even if our product sucks,
you'll keep the gift, for free.