Farewell Charlotte Blue
We had to say goodbye to our sweet Charlotte Blue yesterday.  She had become quite ill, and it finally became clear we had lo let her go.  She was a trooper, but she let us know she had become weary of the fight.  It is no exaggeration when I say she is the most remarkable cat I've ever had the pleasure of knowing.  She was in fact, the perfect cat.  Bad habits and behavioral issues – literally, zero.  She won the hearts of all who met her; and we are talking 'dog people' and people who hate cats.  She was unlike any cat, and to us, she was so much more.
There is a big gapping hole in our lives, and our house is without it's soul and center.  It will take some time to heal and move past that profound feeling of loss.  But she will remain in our hearts and memories forever.  So here's to you my little beauty.  We miss you so much.
Below are my last sketches of her.  Oh, Charlotte Blue, kitty cat we love you.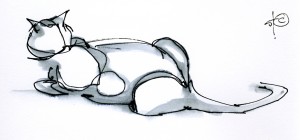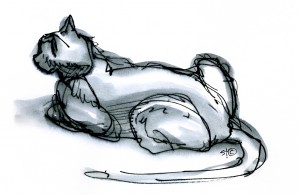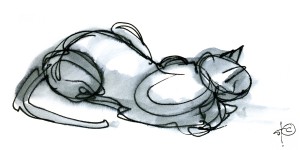 March 8, 2011 | |
COMMENTS